UI for archaeological findings
A project on July 2010
Interactive display and content management system for museums, designed and realized by ToDo in collaboration with AdHoc 3D Solutions.
This Interactive display allow visitors to explore the 3D model and get information about the archaeological findings in the archaeological museum of Aosta
This was one of my first multi-touch interface and one of my big concerns was that people can't see part of the interface because is hidden under their own hand and arm, and the distance between the glass and the screen was a bit high so the interactive areas, like buttons, are particularly big.
In the first steps of UI design, when the prototype was not yet ready, I used the hand stencil to understand how it will look the interaction, at the end we liked so much how it looks that we used in the idle mode also to let people understand that the device was "touchable", as you can see in the video:
Some screenshot from the design process to test readability of contents and interaction design.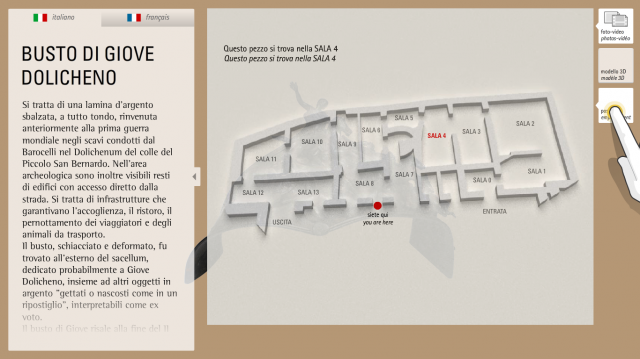 Diagram illustrating the system.